STAR COLLECTOR: SICILIAN CIRCUMNAVIGATION & MONACO GRAND PRIX
on Wind Surf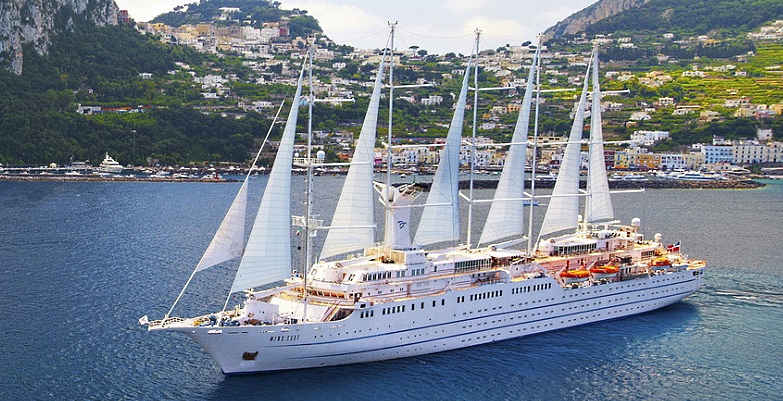 On any day, our 310-guest flagship, Wind Surf, draws admiring glances as she glides majestically into port with her tall sails billowing. And her beauty is far more than skin deep.

Starting with all new finishes and furnishings in suites and staterooms, Wind Surf renovation now brings you some of the most beautiful public spaces at sea.

Everything about Wind Surf speaks of welcome. Come aboard and see it for yourself.

THE WORLD'S BEST SMALL SHIP CRUISE LINE
NO ONE ELSE GOES SO FAR TO GET TRAVELERS SO CLOSE …
You're closer to secluded coves, tiny villages, misty fjords. To ancient ruins, medieval alleyways, quaint marinas. To unspoiled beaches, unfamiliar cultures, undiscovered atolls. To enlivening your curiosity and awakening your sense of wonder. You're closer than ever to the kind of authentic and unforgettable experiences that you travel to find in the first
...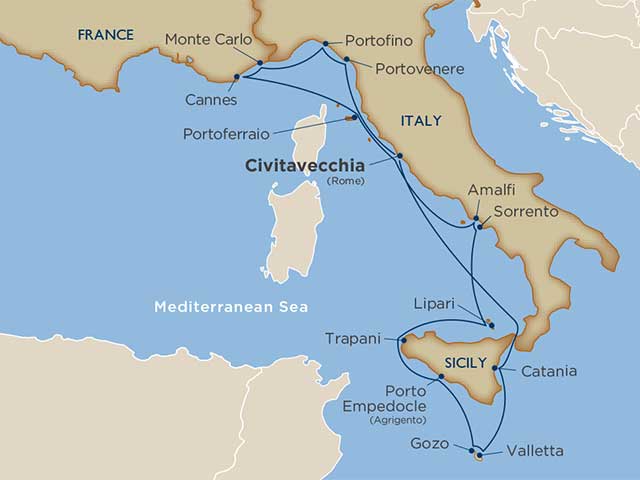 | Day | Port | Arrive | Depart |
| --- | --- | --- | --- |
| 1 | Civitavecchia, Rome, Italy | | 5:00 PM |
| 2 | At Sea | | |
| 3 | Catania, Italy | 8:00 AM | 6:00 PM |
| 4 | Valletta, Malta | 8:00 AM | 11:59 PM |
| 5 | Gozo, Xlendi, Malta | 7:00 AM | 6:00 PM |
| 6 | Porto Empedocle, Agrigento, Italy | 8:00 AM | 5:00 PM |
| 7 | Trapani, Italy | 8:00 AM | 4:00 PM |
| 8 | Lipari, Italy | 8:00 AM | 4:00 PM |
| 9 | Sorrento, Italy | 8:00 AM | 11:59 PM |
| 10 | Amalfi, Italy | 7:00 AM | 2:00 PM |
| 11 | Civitavecchia, Rome, Italy | 7:00 AM | 11:59 PM |
| 12 | Portoferraio, Italy | 8:00 AM | 5:00 PM |
| 13 | Cannes, France | 8:00 AM | 11:59 PM |
| 14 | Monte Carlo, Monaco | 4:00 AM | 11:59 PM |
| 15 | Monte Carlo, Monaco | 12:01 AM | 10:00 PM |
| 16 | Portofino, Italy | 8:00 AM | 11:59 PM |
| 17 | Portovenere, Italy | 7:00 AM | 3:00 PM |
| 18 | Civitavecchia, Rome, Italy | 7:00 AM | |