Grecian Dreams - Premium, Classic Group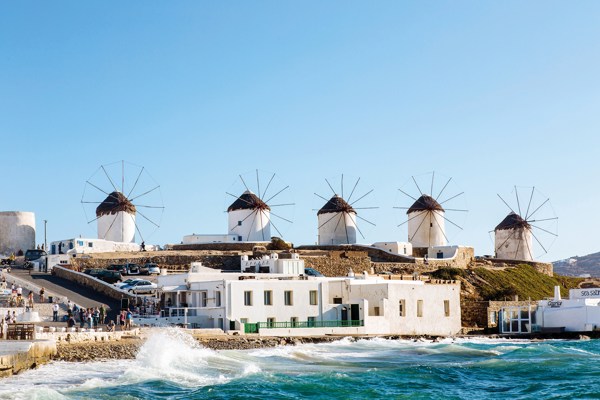 Grecian Dreams - Premium, Classic Group
Experience what Grecian dreams are made of during a 12-day guided tour of Greece and Turkey. In Athens, a Local Expert will guide you through the Acropolis and its Parthenon - the iconic mountaintop temple dedicated to Athena, the goddess of wisdom and war. Let the aromas of authentic Greek cuisine tantalize your taste buds during a chef-led cooking demonstration in Olympia, then indulge in a feast of traditional flavors. Meet a family of artisans in Mycenae who make one-of-a-kind pieces of pottery. Explore the Turkish port of Kusadasi, where a Local Expert will show you the ancient ruins of the city Ephesus, which houses one of the Seven Wonders of the Ancient World. Cruise to the island of Santorini, where you can watch the sun disappear behind the caldera.
Choice HighlightsWell-being
: Our Well-Being Directors take a proactive approach to your welfare ensuring all well-being regulations are met (available on tours with 21 or more guests).
: Our highly-skilled Travel Director will ensure your journey is seamless, serving as your expert guide, consummate organiser, and friend overseas. In Athens, your knowledgeable local Insight host will ensure your time in this city is seamless.
: Enjoy the comfort of Insight's luxury, air-conditioned, 40-seat coach with onboard washroom. Alternate vehicles without onboard washroom or 40 seats may be used on occasion. Our customized luxury coaches are sanitized before the start of your tour and are maintained to very high standards. Physical distancing measures have been implemented on our customized luxury coaches.  
: Experience enhanced hygiene protocols to align with the latest guidance following COVID-19.All Travel Directors, Well-Being Directors and Drivers have completed training in enhanced well-being and hygiene protocols.
: We only work with establishments we are confident will consistently adhere to our high well-being standards, which include hotels, restaurants and sight-seeing venues.
: Hand sanitizer is freely available on board for you to use throughout the day.
Travel Director
: "One of the places I love to take our guests to that they would likely not find on their own or when travelling with anyone else is Nafplion, Greece. It's a beautiful seaside town with traditional Neoclassical buildings. I think it's the most charming town on the mainland of Greece."
: "I love how guests react to hearing the Zorba the Greek song. It's amazing that one old song can still unite and spread so much enthusiasm."
: "In Greece, we still break plates when we are excited, happy, dancing, celebrating our namedays or birthdays, get married or divorced!"
Authentic Dining
Athens: Get to know your fellow travelers over a delightful Welcome Dinner at a local restaurant.
Olympia: Taste unique flavours and savour Greek regional specialities over a colourful Highlight Dinner.
Athens: Toast the culmination of your vacation with a lively Celebration Dinner in true Greek style at a local restaurant.
Dining Summary: 9 Dinner with Wine (DW), 11 Breakfast (B), and 4 Lunch with Wine (LW)
Top Rated Highlights
Athens: Ascend the Acropolis with a Local Expert to admire the Parthenon, built in 5th century B.C. Steps away you'll see the Temple of Athena Nike, also known as the Temple of the Wingless Victory, and the six stone-carved caryatids that make up the Porch of the Maidens on the Erechtheion.
Athens: See the Arch of Hadrian, erected in honour of the Roman Emperor and used as a divider between the ancient city and the new Roman district, along with the remaining columns of the Temple of Olympian Zeus.
Kalambaka: Your Travel Director will provide an orientation of this town situated at the base of the extraordinary Meteora rocks.
Thermopylae: See the Leonidas Monument dedicated to the brave warrior and his 300 Spartans.
Meteora: With a Local Expert, visit one of the remarkable centuries-old monasteries of Meteora, teetering on towers of rock and arguably the most spectacular place to visit in Greece.
Delphi: With your Local Expert, walk to The Sacred Way once lined with offertory temples. See the reconstructed Athenian Treasury and pass the superb Polygonal Wall to reach the Temple of Apollo, where the people would seek divine wisdom from the mysterious Oracle.
Archaeological Site of Olympia: The stadium of Olympia hosted the ancient Olympic Games and the Heraia, the women's games in honour of Hera. See the Temple of Zeus, athlete's gymnasium and the stone marker where the sprint began.
Archaeological site of Mycenae: Walk through the Lion Gate past the royal beehive-tombs where Schliemann uncovered golden treasure, while hearing tales of Agamemnon from your Local Expert.
Nafplio: Join your Travel Director in an orientation of this beautiful seaport town and see why it is named one of Greece's prettiest spots.
Corinth Canal: Cross the amazing rock-cut channel dividing the Peloponnese from mainland Greece.
Athens: Visit the Greek Islands of Mykonos, Patmos, Rhodes, Crete and Santorini. Call in at the Turkish port of Kusadasi.
Ephesus: Discover one of the world's finest ancient sites. Led by your Local Expert, walk the Arcadian Way, see the Library of Celsus and Amphitheatre and visit the House of the Virgin Mary.
Rhodes: With your Local Expert, explore the classical Acropolis of Lindos and the Temple of Athena in Rhodes. These awe-inspiring ruins date back to the 4th century and offer panoramic views of the stunning coastline.
Insight Experiences
Olympia: Chef Farije shares with you her passion for local ingredients and high quality products. Learn how to make tzatziki and other regional dishes during a ...

Travel is our passion and every step is designed with your comfort and pleasure in mind, giving you the vacation of your dreams. Enjoy a premium journey packed full of stylish hotels and authentic dining. Savor the views as you travel on spacious customized coaches, so that you arrive refreshed at each destination, and benefit from smaller group sizes. We believe incredible travel is about enjoying every moment, so the only question left for you is where do I want to go?
Please Call, Airfare not included
Please Call, Airfare not included