8 Day Imperial Cities of Morocco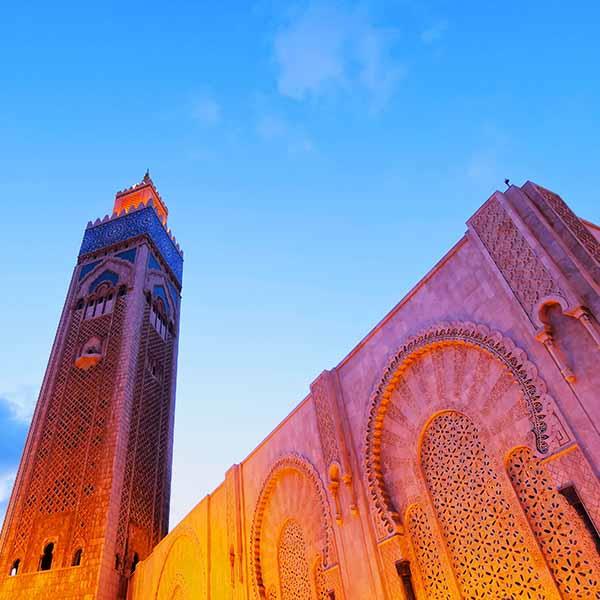 8 Day Imperial Cities of Morocco
Travelers have long been seduced by Morocco's unique architecture, vivid colors and dizzying labyrinthine medinas. With private guide and driver, you'll discover the spellbinding treasures of Meknes, Casablanca, Fes and Marrakech.
Captivate your senses with this elegant voyage through Morocco's sun-drenched bazaars, aromatic spice markets, ornate palaces and magical mosques. Explore the highlights of Casablanca and make your way to the Imperial City of Meknes, known as the "Moroccan Versailles." Take in grand mountain vistas, desert oases and clay-colored villages in the stunning Atlas Mountains. Stroll through the old walled medina of Fez and savor the scent of turmeric and cinnamon clinging to the arid breeze. As the sun fades beyond the horizon, witness Marrakech's main square come alive with hypnotic performers, snake charmers, fortune tellers, belly dancers and bustling food stalls. In the evenings, relax in a selection of charming riads tucked away on quiet cobbled streets.
Kensington Tours offers local support in each region you visit, another reason we deliver unbeatable value. Enjoy a personalized vacation that best suits your needs, developed by one of our experienced destination experts. Relax during your trip with our 24/7 support and expert local guidance.

We create personalized trips based on your preferences, this means no two trips are the same. Our expertise in over 90 countries worldwide means we take on all the complexities and logistics of planning your trip, so you can simply enjoy.
Whether you're looking for culturally immersive experiences, relaxation, culinary delights, exclusive access or unique places to stay, we make it happen. While your local private guide takes it one step further by helping you authentically experien
...