Grand Scandinavia - Classic Group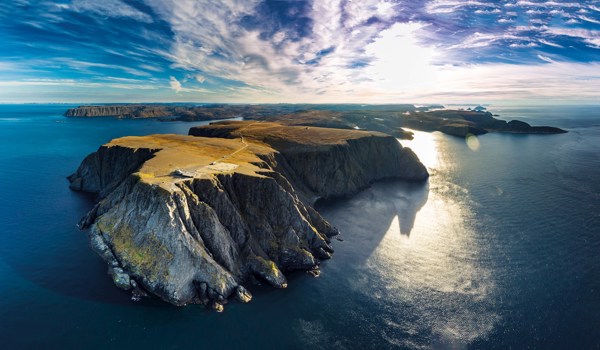 Grand Scandinavia - Classic Group
Cruise the Baltic Sea to Helsinki, step back in time to the reign of the Vikings in Oslo and see Hans Christian Andersen's Little Mermaid in Copenhagen, on a grand three week tour. At North Cape, toast the midnight sun with champagne and local caviar alongside the towering cliffs of Europe's most northern point, where the summer sun never sets. Sample local specialties like liquorice and smoked reindeer at the harborside Helsinki Food Market before arriving to the Swedish capital of Stockholm, home to the melodies of the ABBA Museum and the magnificent Vasa Galleon. After voyaging across the home territories of the nomadic Sami community in Lapland, visit the farm of Trine Lyrek where you'll meet her Arctic dogsled racing Alta huskies. Draw your vacation to a close among Oslo's thousand-year-old Viking ships.
Dining Summary
3 Dinner with Wine (DW)
19 Breakfast (B)
7 Dinner (D)
1 Lunch with Wine (LW)
Choice Highlights
Choose between two carefully selected activities
Rovaniemi: Join your Local Expert for a nature walk in the forest and admire the tranquil surroundings.
Rovaniemi: Meet Santa Claus when you visit his village where it is Christmas all year round! From his post office, you can make sure that Santa sends Christmas letters to friends and family back home come December.
Additional Included Highlights
: Personal radio headsets give you the freedom to wander during visits to famous highlights, without missing any of your Local Expert's fascinating commentary.
: Hotel and restaurant tips are included - you'll never have to worry about how much to give, nor search for foreign currency. We also include all taxes and porterage charges at hotels.
: We carry your bags for you and promptly deliver them to your hotel door.
: From time to time, your Travel Director will delight you with an Insight Flourish, which is a local specialty representing the destination.
: Stay connected with friends and family with our complimentary coach and hotel Wi-Fi (where available).
: If your arrival and/or departure flights are as per the itinerary start and end dates, then transfers are available at scheduled times. If your flights are outside these times, or you have booked additional nights accommodation with Insight Vacations, you may purchase transfers or make your own way from/to the airport.
Authentic Dining
Copenhagen: Get to know your fellow travellers and Travel Director over a drink at your Welcome Dinner.
Helsinki: Wander through the aromatic stalls of a traditional food market with your Local Expert and sample local produce, like liquorice or smoked reindeer.
Alta: Savour a delicious oven-baked lunch of local seasonal specialities of fresh salmon or the local's favourite, reindeer, served with fresh salads and wine.
Oslo: Scandinavian hospitality is matched with fine food and a glass of wine at your Celebration Dinner.
Insight Experiences
Alta: Meet the Lyrek family and their huskies. Hear tales about their marathon Arctic dog sled races while enjoying a hearty lunch.
Make Travel Matter
Karasjok: Visit the The Sámi Museum in Karasjok, displaying the largest cultural heritage collection of indigenous Sámi people in Norway. Admire a big part of its 5,000 items collection, spread across indoor and outdoor exhibits. The Sámi Museum in Karasjok educates its guests about the resiliency of the Sámi community and endeavors to safeguard indigenous-driven processes and traditional practices.The Sámi Museum advances UN Sustainable Development Goal 11: Sustainable Cities & Communities.
Top Rated Highlights
Copenhagen: Make the most of the long summer nights at the glittering Tivoli Gardens, the world-famous entertainment park, full of fantasy, fun and charm.
Copenhagen: With your Local Expert, view Christiansborg Palace and the cathedral where the Crown Prince of Denmark married Princess Mary. You'll also see Rosenborg Castle, Amalienborg Palace, the Renaissance Stock Exchange and the unusual Rundertaarn, which is the oldest functioning Observatory in Europe.
Copenhagen: Visit the impressive 18th century Copenhagen Cathedral, designed by Christian Frederik Hansen, known for its neoclassical architecture and for featuring the largest bell in Denmark.
Oresund Bridge: Cross this magnificent feat of engineering. It's the longest road and rail bridge in Europe, spanning 8 kilometres.
Stockholm: With a Local Expert, step inside the City Hall where the fabulous Gyllene salen, the Golden Hall is covered by 18 million gilded mosaic tiles. You'll also see the Blå hallen, the Blue Hall, where the Nobel Prize banquets are held.
Stockholm: With your Local Expert, visit Gamla Stan to see the cathedral where Swedish kings have been coronated and wander the narrow streets of the Old Town.
Helsinki: Admire the beautiful views from your high-class, sea-view cabin as your cruise through the largest archipelago in the world, from Stockholm to Helsinki.
Helsinki: Your Local Expert will show you the sights of the harbour city. Wander through the aromatic stalls of a traditional food market and sample local produce like liquorice or smoked reindeer before enjoying free time to explore the harbour of this fascinating city of design.
Kuopio: Admire the spectacular panoramic views from atop Puijo Tower.
Oulu: Visit Northern Finland's oldest city. It is also one of the most important harbour cities in all of Northern Europe.
Rovaniemi: Join your Local Expert for a nature walk in the forest and admire the tranquil surroundings.
Rovaniemi: Meet Santa Claus when you visit his village where it is Christmas all year round! From his post offic...
With Insight, you'll enjoy the best experiences your destination has to offer – all included within one price. You'll travel in business class elegance to quality, handpicked hotels in the best locations on our luxury coaches. They're specially configured with fewer seats to offer 100% more legroom than standard touring coaches.
You'll meet new people, too. Whether you join us on your own, as a couple, or with friends and family, the small group that you travel with will share your pa
...