Country Roads of Umbria & Tuscany - Small Group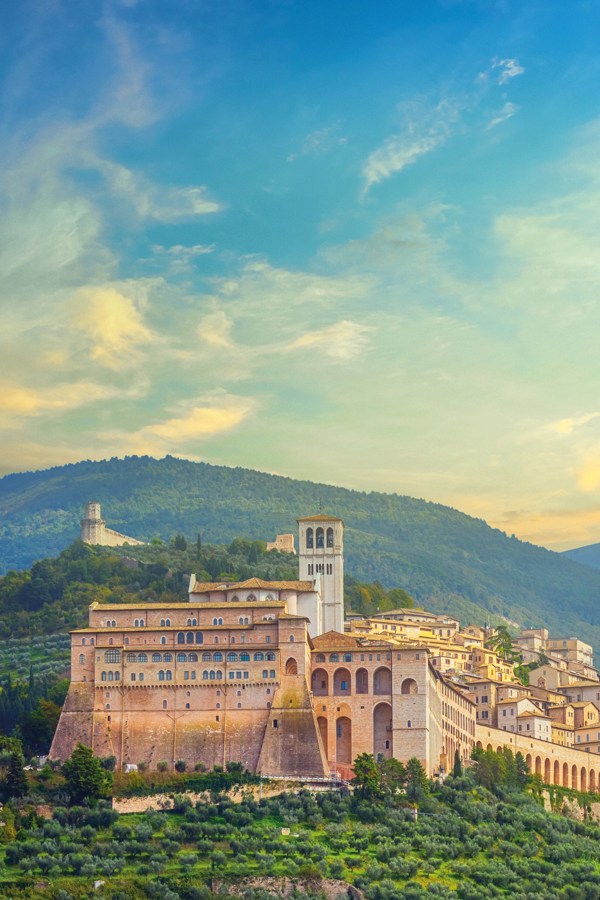 Country Roads Of Umbria & Tuscany - Small Group
Live 'la dolce vita' during this 9-day guided tour of Italy. Explore the Vatican Museums, where your VIP pass gets you behind-the-scenes access to the Bramante Staircase. Walk the narrow cobblestone streets of Siena to the shell-shaped Piazza del Campo and see the Torre del Mangia, the second-tallest tower in Italy. Visit a family-run olive mill, where a third-generation olive maker will share how its olives become the decadent oil you'll taste at the mill. In San Gimignano, eat the best gelato in the world - literally. You'll meet a world champion gelato maestro who will welcome you into his ice cream parlor to indulge in his favorite flavors. Alongside a Local Expert, marvel at the cathedral at the center of Florence: Basilica di Santa Maria del Fiore, nicknamed 'the Duomo' for its awe-inspiring crown made by a master goldsmith.
Dining Summary
4 Dinner with Wine (DW)
8 Breakfast (B)
1 Lunch with Wine (LW)
Choice Highlights
Choose between two carefully selected activities
Siena: Visit Siena's medieval black and white striped cathedral with your Local Expert.
Siena: Enjoy a tasting of Panforte, a traditional Tuscan dessert containing fruits and nuts.
Authentic Dining
Rome: Welcome Dinner as you dine at your hotel's restaurant, Unique al Palatino.
Umbria: Explore the art of Italian cooking with Chef Lorenzo and take part in a truffle hunting walk followed by a tasty lunch.
Perugia: You are offered a selection of restaurants on your Dine-Around Evening. Choose your own ambience, cuisine and drinks for an intimate culinary experience.
Siena: Enjoy a tasting of Panforte, a traditional Tuscan dessert containing fruits and nuts.
San Gimignano: Ascend serpentine alleyways to the artisan gelato parlour of world champion gelato maestro, Sergio Dondoli for a taste of his finest frozen treats.
Tuscany: Nestled in the rolling hills surrounding Sam Gimignano and surrounded by its own vineyards, olive groves, saffron crop and orchards, is the homely Il Vecchio Maneggio. Admire the beautiful views as you enjoy a drink before sitting down to your Celebration Dinner - a delicious Farm-to-Table experience, with all the organic produce sourced from the surrounding farm.
Insight Experiences
Vatican: Gain priority access into the Vatican Museums and admire the famous Bramante Staircase. Witness the genius of Michelangelo in the Sistine Chapel and view the splendid dome of St. Peter's Basilica.
Make Travel Matter
Perugia: Meet Marta, a recipient of a TreadRight Foundation grant. Learn how she offers employment opportunities for local women and alongside her weavers, preserves the ancient craft of loom-weaving in an artisan workshop.The workshop is owned by women and actively empowers women and girls through its education and training programs. Marta, and her students help to safeguard the unique patterns while contributing to the protection of Umbria's cultural heritage.  Laboratorio Guidetta Brozzetti advances UN Sustainable Development Goal 5: Gender Equality and UN Sustainable Development Goal 11: Sustainable Cities & Communities.
Top Rated Highlights
Rome: During your orientation with you Travel Director see the medieval buildings, including Renaissance palaces and Baroque churches, scattered throughout the city.
Assisi: See St. Mary of the Angels Church and join your Local Expert to walk through the cobbled streets and beautifully preserved medieval laneways of this quaint town.
Assisi: With a Local Expert, find out why the Basilica of St. Francis is considered one of the crowning achievements of Europe.
Siena: Visit Siena's medieval black and white striped cathedral with your Local Expert.
San Gimignano: Visit the medieval Manhattan of Italy!
Florence: Join a Local Expert to view the multi-coloured marble cathedral, bell tower and baptistery, adorned by Ghiberti's Gates of Paradise. Visit the political heart of the city, Signoria Square. See the area around Santa Croce Basilica, famous for the quality of its luxury goods.
Travel Director
: "One thing I really love about showing guests about Italy is how art and beauty can be found around every corner of some of Italy's cities, which are real open air museums."
: "One fun fact people don't usually know before they come to Italy is that the Italian alphabet only has 22 letters."
: "I really love about showing guests the huge variety that Italy has to offer, from quaint countryside villages to cities full of stupendous art and architecture."
With Insight, you'll enjoy the best experiences your destination has to offer – all included within one price. You'll travel in business class elegance to quality, handpicked hotels in the best locations on our luxury coaches. They're specially configured with fewer seats to offer 100% more legroom than standard touring coaches.
You'll meet new people, too. Whether you join us on your own, as a couple, or with friends and family, the small group that you travel with will share your pa
...