Oktoberfest The Germanic Experience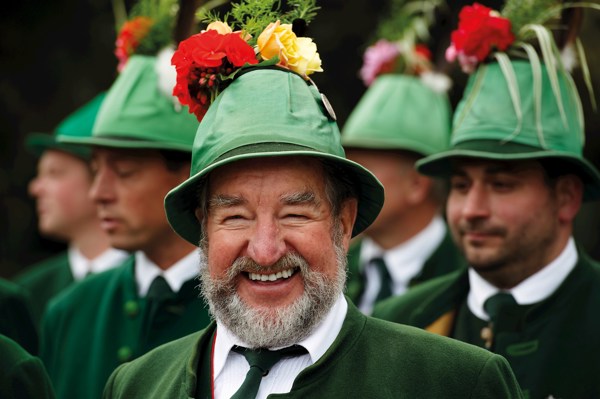 Oktoberfest The Germanic Experience
Discover the Germanic awe of the world's longest running beer festival at Oktoberfest in Munich, with exclusive seating in the Ochsenbraterei Tent-your very own VIP beer hall among a sea of six million festival goers. Meet Patrick von Ritchthofen, a direct descendant of the Red Baron, before journeying across the Austrian border for a Danube River Cruise, sailing past the mountainside vineyards and lush green surrounds of the Wachau Valley. After touring Berlin's iconic sights, everything sparkles at a once-in-a-lifetime Dresden dinner, hosted at the King of Saxony's former summer residence. Enjoy a meal of delicious abundance at the Schloss Hotel Dresden-Pillnitz, a baroque castle complex originally built for the King Augustus II in 1720.
Dining Summary
4 Dinner with Wine (DW)
10 Breakfast (B)
Authentic Dining
Munich: Join special guest Patrick von Ritchthofen, a direct descendant of Manfred von Ritchthofen, otherwise known as 'The Red Baron', for an unforgettable conversation and a Dinner.
Insight Experiences
Vienna: Indulge your senses with a magical concert of classic Viennese music and dance. Enjoy a delicious traditional Austrian dinner, then watch the works of Mozart and Strauss come to life.
Summary
: Guided sightseeing tour with Local Expert in Berlin, Dresden, Salzburg and Vienna • Orientation tour of Nuremberg and Munich.
: Breathtaking scenic drive through Berchtesgaden countryside to Maria Gern chapel.
Top Rated Highlights
: Visit the world famous Oktoberfest in Munich • BMW Museum in Munich • The imposing Hohensalzburg Fortress with Funicular ride in Salzburg • Hitler's notorious "Eagle's Nest" in Berchtesgaden • River Cruise along the stunning Wachau Valley • Wachau style wine tasting • Schönbrunn Palace in Vienna.
Berlin: You Local Expert provides a tour of this vibrant city. Drive along the Ku'Damm, passing the Kaiser Wilhelm Memorial Church and through Tiergarten to the Reichstag building. See the Brandenburg Gate, State Opera House and visit Alexanderplatz.
Dresden: Your guided tour with a Local Expert shows you the Frauenkirche, the colossal 'Procession of the Dukes' mosaic, the cathedral, Semper Opera House and Zwinger Palace. You'll also learn about the traditional German Christmas Pyramids.
Nuremberg: Nuremburg is steeped in history and famous for its magnificent landmarks including the imperial castle and the old walled town. Although much of the city was destroyed in WWII, the medieval parts of the old town have been faithfully reconstructed. The City is also famous for the Nuremburg Trials, carried out between 1945 and 1949.
Munich: Join this giant and unforgettable celebration of great local beers – in fact over seven million liters of beer get consumed each year at Oktoberfest. Revelers also munch their way through thousands of giant sausages and pretzels! Lose yourself in the colorful parades, enjoy fairground rides and admire those in traditional Bavarian costume.
Munich: This elegant museum serves as an architectural landmark of both Bayerische Motoren Werke and Munich's cultural life. Its centerpiece is a permanent exhibition of some 110 exhibits, complemented by temporary exhibitions dedicated to special themes.
Salzburg: This impressive fortress sits high above the rooftops of Salzburg's Baroque historical district, offering stunning 360° views of the city. The largest fully preserved castle in Central Europe, roam the magnificent halls and walls, and admire intricate artworks.
Salzburg: Join your Local Expert to visit the formal gardens of Mirabell Palace and Residence Square - both locations used in 'The Sound of Music.' You will also see the imposing fortress, the immense cathedral and Mozart's birthplace on the lively Getreidegasse.
: Admire breathtaking views on a scenic drive through the stunning Berchtesgaden countryside, alongside snow capped peaks and lush green meadows. Visit the picturesque Pilgrimage church, Maria Gern Chapel, a pristine white architectural gem, perched on the hillside.
Vienna: Stroll through the 18th century Crown Prince Garden and manicured grounds with your Local Expert.
With Insight, you'll enjoy the best experiences your destination has to offer – all included within one price. You'll travel in business class elegance to quality, handpicked hotels in the best locations on our luxury coaches. They're specially configured with fewer seats to offer 100% more legroom than standard touring coaches.
You'll meet new people, too. Whether you join us on your own, as a couple, or with friends and family, the small group that you travel with will share your pa
...